---
The center part of the screw pump is composed of a rotor and stator. Screw rotors are usually made of metallic materials and are made into unique twist angles through special cutting machines. A particular structure consisting of a steel rotor and an elastic stator makes it capable of conveying materials containing solid particles.
Because the rotor of the progressive cavity pump rotates eccentrically, it cannot move at high speed. Its primary function is to transmit power and cooperate with the stator to form a closed sealed cavity, and finally, the material is successfully output;
Material of rotor
---
Carbon steel, stainless steel, SS304, SS316L,904L, etc.
The material of rotor my company commonly used: 40Cr, Cr12mov,SS304, SS316L, 2205 and 904L
---
Cutting
Rough machining
Turning screw shaft
Polishing
Drill
Electroplating or heat treatment
Secondary polishing
Packing

APPLICABLE MODELS
---
| | |
| --- | --- |
| NETZSCH: | NM015 /NM021 /NM031 /NM038 /NM045 /NM053 /NM076 /NM090 /NM105 /NM125 /NM148 |
| SEEPEX: | BN1-6L /BN1-12 /BN2-6L /BN2-12 /BN5-6L /BN5-12 /BN05-12/ BN05-6LT /BN10-12 /BN15-6LT/ BN17-6L /BN17-12/ BN26-12/ BN26-6L /BN30-6L /BN30-12T /BN35-6L /BN35-12 /BN52-12 / BN52-6L /BN55-12T /BN70-6L /BN100-6L /BN110-12T/ BN200-12T /BN300-6L / Others |
| ALLWEILER: | AED2E1450 /AEB1E100 /AE2E380 /AED1E4250 /AE2E2700 /AE2E750 /AE1E1200 /AED2E150/ AE1E0050/ AE2N750/ ANP12.2/Others |
| MONO: | C13K /C14A /C14K /C15A /C15K /C17K /C18K /C19K /C1AK /C1BK /C2XA/Others |
| PCM: | 6M12S/40M24S/1I10 /130I5 /240I5 /120I5 /40ID10/240ID5/25I10 |
| OTHERS: | Samples customization service provided |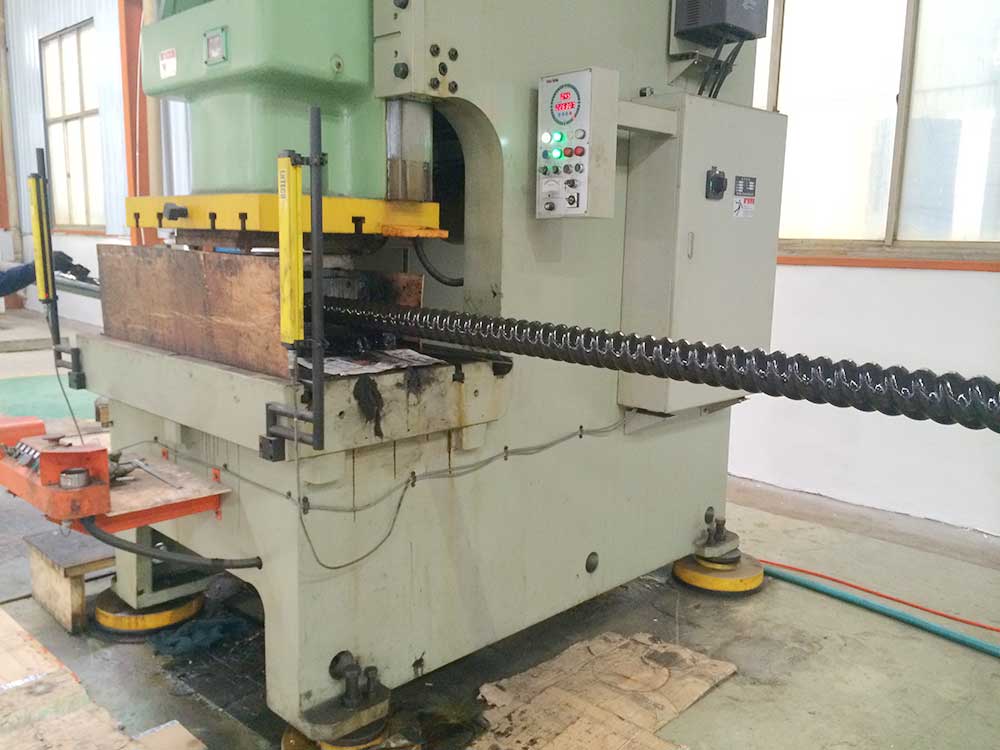 FAQ
---
Q1:Can I customize it?
A: Yes, indeed.
Q2:We need to buy a stator, but I don't know how to choose rubber. Can you offer any help?
A: Yes, you must tell us the application of the screw pump, for example, food, sewage, or pulp.

Q3:I only have a rotor or stator. Can you help to produce a stator or rotor so that it can match?
A: No, if customized, the buyer must provide a couple of rotors and stators, except you know the type and brand.
A progressive cavity pump rotor, also known as a screw pump rotor, is a critical component of a progressive cavity pump. It is responsible for moving fluids through the pump by rotating inside the stator, creating a cavity that moves the fluid from the suction to the discharge side of the pump. In this article, we will discuss the functions, materials, and replacement options for progressive cavity pump rotors.
Functions
The progressive cavity pump rotor plays a crucial role in the operation of the pump. The rotor's helical shape works in tandem with the stator's cavity to create a seal, trapping and moving fluid from the pump's suction to the discharge side. The rotor's design also enables it to handle fluids with varying viscosities, making it a versatile choice for a wide range of industries, including oil and gas, food and beverage, and wastewater treatment.
Materials
Progressive cavity pump rotors are typically made from a range of materials, including stainless steel, hardened steel, and elastomers. Stainless steel rotors are the most common choice for industrial applications, offering high durability and resistance to corrosion. Hardened steel rotors are used for high-pressure applications, while elastomer rotors are used for food and pharmaceutical processing, as they offer excellent chemical resistance and sanitary compliance.
Replacement Options
When it comes to replacement options for progressive cavity pump rotors, there are several brands and manufacturers to choose from. The two most common brands are Netzsch and Mono, with each offering their own unique line of rotor options.
Netzsch offers a range of progressive cavity pump rotors, including their Nemo® line of rotors, which feature a unique four-point connection system that offers superior strength and durability. The Nemo® line also includes rotors made from materials such as stainless steel, Hastelloy, and titanium, making them suitable for a variety of applications.
Mono also offers a range of progressive cavity pump rotors, including their EZstrip® line of rotors, which are designed for easy maintenance and replacement. The EZstrip® line features rotors that can be removed without the need for special tools, making them an ideal choice for applications where downtime must be minimized.
In addition to these brands, there are also several third-party manufacturers that offer compatible progressive cavity pump rotors that can be used as replacements for Netzsch or Mono rotors. These options can often provide a more cost-effective solution while still maintaining the quality and performance standards of the original equipment.
In conclusion, progressive cavity pump rotors are a crucial component of a progressive cavity pump, playing a critical role in moving fluids through the pump. By understanding the functions, materials, and replacement options for progressive cavity pump rotors, users can ensure efficient and reliable pump operation while minimizing downtime and maintenance costs.