Essential details
---
Power Source: Electric
Structure: Single-stage Pump
Model Number: MP
Pump housing material: F-FRPP/P-PVDF
Customized support: OEM, ODM
Feature
---
The portable magnetic drive chemical pump is a full-sealed pump, for the motor connecting shaft and impeller are separately equipped with magnetic materials, they attract each other and are coupled. It's unnecessary to fit with a traditional shaft seal. The rotation of the motor drives the impeller to rotate through the attraction between the driving magnet and the driven magnet. Our magnetic drive circulation pump is generally designed for no shaft seal and completely avoids defects of pollution after corrosion caused by liquid leakage, which exists in traditional mechanical shaft seal pumps. It is the optimum liquid transport pump.
Leak-free, sealless construction.
Simple, modular construction for ease of maintenance.
Non-metallic chemically inert materials offer excellent resistance to corrosive fluids.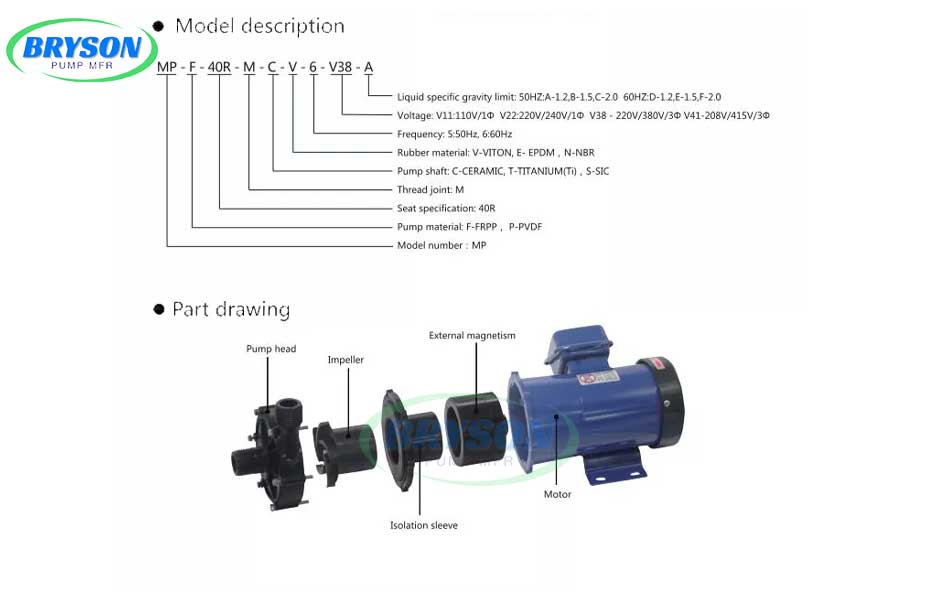 Application
---
The portable magnetic drive chemical pump is widely used in the chemical industry, medicine, construction, Environmental protection, irrigation works, power industry, Petroleum, fire control, food, printing, color Photofinishing, etc.
PRODUCT SPECIFICATIONS
---
Model Type

MP (horizontal single-stage end suction miniature PP plastic material chemical transfer acid alkaline salty solution resistant magnetic drive circulating pump)

Flow

0.48-13.2m3/H(8-220L/Min)

Head

Power

Operating temperature

Medium density

Speed

2900r/min, 1450r/min, 3600r/min or as customer required

Voltage

200V – 600V, 50HZ-60HZ, or as the customer required

Connection

Flange butt joint(ASME-ANSI-JIS-GB) or as the customer required

Rubber material

Pump housing material

Brand name

Pump shaft material

Ceramic, silicon carbide-SIC

1. Magnetic drive, no shaft seal design, completely leak-proof, will not cause chemical liquid leakage, causing environmental pollution.
2. It is suitable for the transportation of all kinds of chemical acids and base medicine.
3. The suitable temperature of the pump: is 0 to 90 ºC, depending on the properties of the chemical solution.

Medium

Acid-base, sulfuric acid, hydrochloric acid, chromic acid, hydrofluoric acid, nitric acid, hydrogen peroxide, sodium hydroxide.

Application field

Electroplating, chemical industry, wastewater, waste gas, sewage treatment, etc.