Overview
---
CQB-F series chemical magnetic pump (CQB magnetic pump). When the outside magnet steel of the magnetic drive rotates, the magnetic line of force goes through the gap and spacer sleeve to work on the inside magnet steel driving the pump shaft to rotate in step with the motor and transferring torque without contact. The liquid at the drive input end of the pump shaft is fully confined inside the spacer sleeve without any dynamic seal, thus avoiding any liquid dripping, leak, and spill which is a frequent problem in the chemical industry. This pump, suitable for conveying toxic, harmful, flammable, explosive, and precious liquids, is an ideal pump for factory buildings free from leakage and pollution.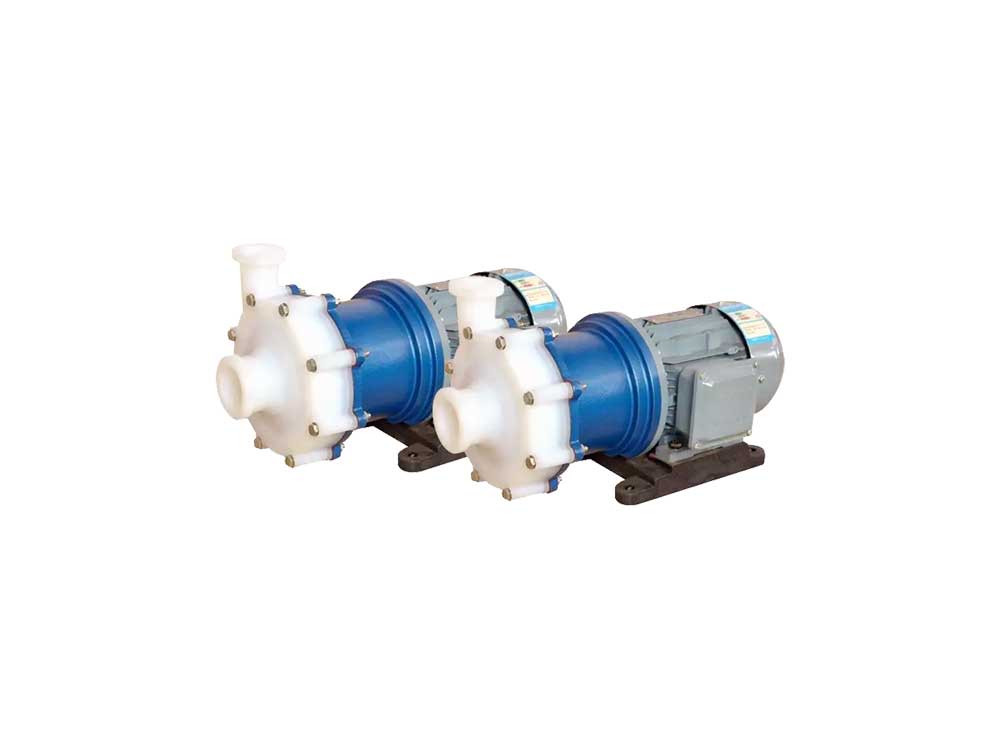 Essential details
---
Voltage:220V-500V, 380V/50HZ, 415V/50HZ
Structure: Single-stage Pump
Product name: CQB-F chemical magnetic pump
Model Number: CQB-F
Material: PTFE, PFA, and FEP
Customized support: OEM, ODM
Feature
---
No Leakage: Unlike the conventional centrifugal pump, the seal-less design on the magnetic drive pump has a corrosion-resistant rear casing that separates the drive magnet and the magnet capsule. This may avoid liquid leakage, pollution, or corrosion problems.
Maximum Durability: The geometry of the impeller and casing are fine-tuned by the professional hydraulic program to reduce hydraulic loss and increase pump efficiency. Employs an extra powerful permanent NdFeB magnet that is outstanding performance and coupling capability.
Easy to Assemble: The parts are standard, easy to assemble, check, and maintain, more convenient, and save more time.
Application
---
CQ chemical magnetic pump is used for Belectroplating wastewater, pickling and polishing, medicine and pesticide, the fine chemical industry, iron and steel metallurgy, and so on.

Suitable medium: acid, alkali, salt, organic solvent, and so on.
Product details
---
| | |
| --- | --- |
| Working Principle: | Centrifugal, Magnetic |
| Main applications: | Chemical |
| Driver: | Electric motor |
| Power Specs: | 380/415 V 3phase 50hz/60hz |
| Max. permissible fluid temperature: | 100°C(212°F)/280°C(536°F) |
| Type of connection: | Flange |
| Installation position: | Horizontal |
| Casing/Inner parts material: | Stainless steel/Stainless steel |
| Shaft seal type: | Static sealing |
| Maximum drive rating: | 55KW(75HP) |
| Maximum caliber: | 100mm(4inch) |
| Maximum discharge-side pressure: | 0.8MPa(8bar) |
| Maximum head: | 80m(262.4ft) |
| Flow rate range: | 3.2-100m3/h(14.1-440 US.GPM) |
Structure diagram
---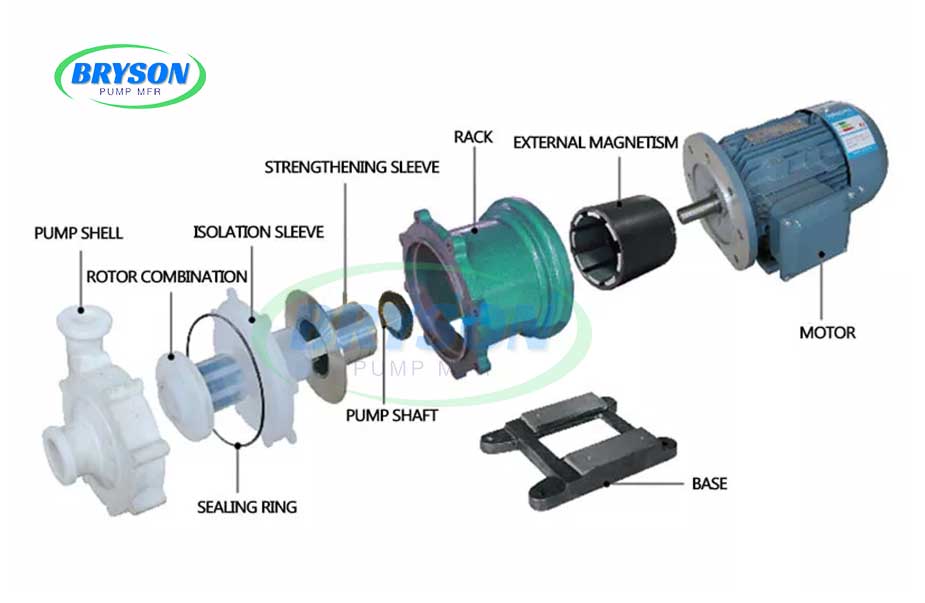 Parameters Table
---
Notes:
---
CQB-F chemical magnetic pump can become ODM and OEM according to customer needs
High-temperature type—G, the highest temperature resistance is 180℃.

Lye type—J, can transport alkaline liquid.
Granular type-K can transport 10% suspended particles, uniformly dispersed suspension, or emulsion.